£¨Section 1 ¡°Digital Signage Revolution¡±, Ichiya Nakamura£«Nanako Ishido, Asahi Newspaper Publishing, 2009£©
¡ô1. Key word ¡°Digital Signage¡±
A huge display that hangs in front of a train station.
A lengthwise plasma TV in front of the entrance of a department store announces? ¡°Kimono Sale on the top floor¡±.
A question that appears on the junior high school entrance exam appears on a display next to the station notice inside a train car.
There will be announcements like ¡°NOTICE: 10 minute delay due an accident at the last station¡± and a weather report saying ¡°50% chance of rain tomorrow¡±.
In front of a western bar, ¡°Today's Special: Salmon Carpaccio¡±; ¡°Free house wine for ladies¡±.

In taxis, riders can see previews of upcoming movies. Elevators in high-rise buildings show news and stock reports. In supermarkets, hints about dinner recipes and cooking preparation are displayed.
(Roppongi Midtown)
Everywhere in the city, you could see pictures of various sizes. You would notice that various displays are filled up inside and outside, forced into your eyesight.
Unlike advertisements that appear during TV programs and those shown during baseball games and comedy shows, these displays are works of art in the form of commercials and notices created for the displays.
These new media are generically called ¡°Digital Signage¡±. This term has been appearing more and more in newspapers and magazines.
Currently, Digital Signage has become the central focus of public attention as an industry with extreme growth potential. Industries like advertising, marketing, electronics and data communications are setting-up business capturing the potential of this genre.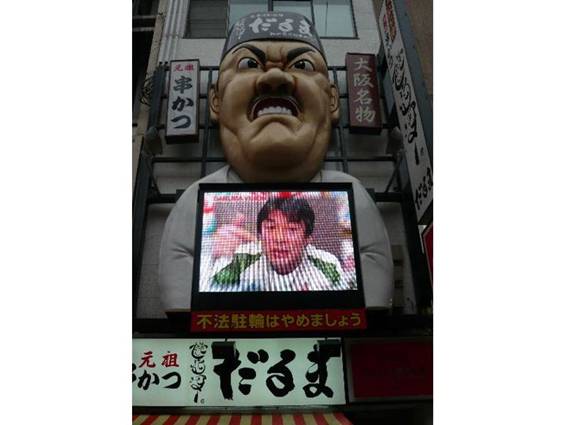 (Daruma in Osaka city)
Digital Signage is a media that identifies with time and place; different from other media like TV or newspapers. It is a form of media that exisits in cities and stores; different from the Internet and cell phones. Digital Signage is expected to be the new media for advertising, new ways of marketing, a new digital industry and new culture.
Since the degree of acknowledgement of the term Digital Signage is not generally well known, terms like ¡°electronic board¡±, ¡°out of home¡±, ¡°electronic poster¡±, ¡°digital pop¡± and others are often used in its place.? But thanks to the inauguration of the ¡°Digital Signage Consortium¡±, this term was established in 2008.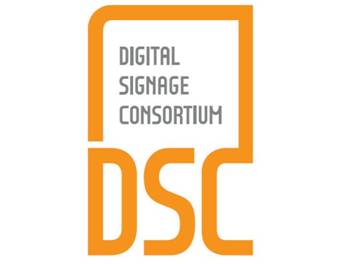 2008 is called as the ¡°First year of Digital Signage¡±. And after 2009, full-scale takeoff of the industry is expected.
However, although the name is brand new, isn¡¯t it only a moving board or a moving poster after all? Or it could be said that isn¡¯t it only a huge TV that hangs on a wall or in the station? Isn¡¯t it just a TV that is in trains or taxis?
Then why did it become the central? focus of public attention? What does it mean to be an industry? As was the case of the IT bubble, isn¡¯t it just a result of investment from the industry?
Boards, light ornaments, neon signs and TV have been around for a while. What makes them so special now.
After all, why change an easy word like ¡°electric board¡± to a difficult one like¡°Digital Signage¡±?
And for most companies, how should they use this new media?
To tell you the truth, Digital Signage is a wide media platform that does not only exist in advertisements and boards. It is seen in stories that develop in the surfaces of techniques or businesses and it is also an expression or culture. It could influence? people¡¯s actions or lifestyles since it changes our cities into information spaces.? It could be called a ¡±Revolution¡± with its impact on society and economic possibilities.

(Jinrikisha in Asakusa)
¡ô2. Signage Getting Wider
What kind of signage exists? Let¡¯s check out the city.
One of the model examples is a huge screen set in the middle of town.
In front of Shibuya station's Hachiko crossing, teenagers and couples are looking at contents as they cross the street. information about a new CD release or horoscopes are shown on four huge screens. This area alone is said to be visited by 300,000 people daily.
The closest Digital Signage for people going to work or school is the monitor on the train. Like JR East line¡¯s ¡°Train channel¡± and JR West line¡¯s ¡°West vision¡±. There is information going around like ¡°3 minutes till next stop¡± or commercials about? companies and their products/services, weather reports, news and mini lessons on English. At first, it looks like a TV program, but there is no sound. There seems to be an intricate picture for this media. Digital Signage is creating and delivering its own contents. Once you get on the train, your eyes naturally catch the signage. The Train channel is a famous form of media that 7.7 million people view on a weekday, and it is filled of spots for advertisements. On women¡¯s only cars, there are devices of showing different contents from cars, fashion news and information about accomplishments focused on women.

In Haneda airport, a 7 inch display in each room shows flight information and advertisements. It is said that there will be signage in 65 women¡¯s bathrooms, 355 booths in total. Men do not use rooms so often, they are limited only for women. Since it is in the room, people cannot help looking at them.

(Train Channel) & (Haneda Airport)

In the big discount store ¡°Olympic¡±, information about sales are shown. Housewives who are not sure what to cook for dinner stop by the Digital Signage? showing how to cook chicken broccoli spaghetti. Fathers are killing time looking at the news on another screen. It is said that 151 terminals are used in 22 stores. Analysis shows that sales rose 2.5 times higher than the previous year due to? linking food and signage.
To tell the truth, small signage is everywhere in supermarkets, drugstores and warehouse stores. At a drugstore called ¡°Matsumotokiyoshi¡±, a small TV is showing commercials on the beauty floor. The store ¡°Itoyokado¡± has a display that is just the size of a cell phone which displays yogurt. At the electronic store ¡°Yodobashi Camera¡± electronic photo frames are advertising themselves. These electronic POP(Point of Purchase) advertisements? are also spreading rapidly.

¡°QUICK¡±, a company that delivers economic information, hands out 3500 stock display systems. The stock brokerage firm, ¡°Nomura Security¡± displays interest rates with whole 200 stores. The Digital Signage is not delivering advertisements, but giving stock information and interest rate information. Digital Signage has no bounds with respect to advertisement and marketing in the way in which it is delivered.
It plays an active part in these areas.
Softbank¡¯s group, ¡°COMEL¡± is now presenting ¡°Fukuoka city media¡± using a Digital Signage system by cooperating with Fukuoka companies and area organizations. There is a plan to put 1000 displays in subways and shopping districts to reach about 2 million people daily and to contact more than 3 times a day. It will raise its attention by continuing and renewing the ¡°Fukuoka Softbank¡± in real time.
And Digital Signage is also linked with cell phones.
At places like events, shopping centers and amusement parks, Digital Signage is linked with cell phone money or untouched IC cards. And there are examples of spots of huge displays of signage with using limited areas of the 1 segment-mobile-broadcasting system.
Around Kanda station¡¯s shopping district, electronic boards showing ads received? TOKYO MXTV electric waves give store announcements and coupons using a cell phone¡¯s FeliCa by using a midnight data broadcasting signal. It is a mix of broadcast, signage and cell phones.

In Shibuya, Next and Area Portal have been running a 1 segment-mobile-broadcasting system since November 2008. In Kyoto, five companies ¡°Kyocera Communication Systems¡±, ¡°KDDI¡±, ¡°Kyoto Purple Sanga¡±, ¡°Kyoto Broadcast¡± and ¡°FM Kyoto¡± are testing this system.
¡°Digtal Signage that can provide on time visions of information for each place is expected to expand its market for now on¡±. (Tsuyoshi Arata from Mitsubishi Electric)
¡°Digital Signage¡¯s market can be applied widely. To expand opportunities, technology should be improved so we can realize the consumer¡¯s need¡±. (Takashi Sanse from Fuji Film Image Tech)
¡°The way to understand the Digital Signage market is quite easy. Just walk in the city. More displays are hanging here and there. This sense of reality is the limiting growth of the Digital Signage market. As the number of displays grows, so will Digital Signage.¡± (Keno Kubota from Panasonic)
¡ô3. New Advertisement Media
Digital Signage seems to be commonplace on electric boards at the moment.
Taking the place of posters and fliers, displays and projectors are used for announcements and advertising. By connecting to a digital screen, it is more dynamic than posters and boards, and more detailed information than is available on TV.
What is the reason for getting the attention of the advertisement medium? There are 4 reasons.
1 The ability to use movies and music
2 The ability to identify place and time
3 The ability to control contents by displayed by each terminal
4 The ability to reduce advertising costs in the long term

Let¡¯s compare Digital Signage to conventional posters.


1,Digital Signage shows not only still images but also moving images and sounds. The amount of information will increase greatly.

2, Digital Signage can deliver information to suitable places at suitable time.

3, Changes can be made to individual terminals remotely.
¡°It is suitable for owners who advertise and sell especially one product; owners who want to aim at lunch or dinner needs; or owners who don¡¯t want to show advertisements in the afternoon.¡± (Katsuhiro Yoshida from Oricom)
At a certain station point, one drink company can deliver different commercials for coffee for people going to work in the morning, health drinks for wives in the afternoon, or beer for people going back home. This so called target marketing is possible. Many displays can be connected by a network so that multiple images can be handled.

4, In terms of cost, displays and communication systems are still expensive. Compared to paper posters, digital displays cost quite a bit more. However, the cost of bigger-sized thin flat-screen displays has gone down rapidly. Also the cost of broadband communication is going down.


Costs and benefits have come to match accordingly in size and share. There advantages in being able to control targeting advertising and marketed electronically versus the time and personnel expenses for physically re-papering posters and? boards. The proliferation of rent services of cheap control software and monitors are making the utilization of Digital Signage expand among smaller firms that have financial challenges.

There are many types of displays as well as places to display digital signage . Public spaces like trains, buses, stations, shopping districts, schools, hospitals and public offices are candidates. Private venues like live houses, stadiums and parties held for events are also potential spaces. On a smaller scale, vending machines, post offices/mail boxes, public telephones and public toilets are also possibilities. Inside or outside of office buildings, commercial institutions or public spaces can have Digital Signage. Digital Signage can exist in public and open spaces or private closed places. Anywhere can be a territory of Digital Signage. Whether it¡¯s a big or small screen, there will be a space to get in.
¡°An announcement board. Museum in area. A place to present for students or young artists. Digital Signage can take part in those kinds of places.¡± (Mr. Hideaki Watanabe from Kanzan)
Information boards for banks, announcement boards for schools, advertisements on trains, information about selling public lottery tickets, name plates for apartments: Every place can have small screen signage. And everything can be connected with on a network.

(In Keio Unversity)

Whenever, wherever, with whomever. The word ¡°ubiquitous¡± renders an image of an expanded information society. Time, place and whomever to do not matter. This word is originally Latin and refers to the omnipresence of God; and is used as an image of a? network connected by a variety things. It fits more in countries with polytheistic faiths like Japan rather than monotheistic cultures like Europe and the United States. Signage is perfect for realizing an ¡°ubiquitous¡± society. Outside or inside ¨C? everywhere ¨C it stands and connects information between TV for the general public and cell phones for individuals.
But, signage is a media that informs ¡°only now, here and you¡±. It is a means of sending information by adding clear purpose and effect.
¡°Ubiquitous¡± means to connect the realistic space and virtual online world. Signage will paste together the information inside buildings and outside. Virtual information can be seen here and there. It is a window for connecting the realistic and the virtual.
¡ô4. Expansion Model of Japanese Tradition
You can imagine an expansion scenario for the Japanese style of Digital Signage. For example, vending machines.
Japan is a kingdom of vending machines. It is said that 5.6 million machines are in Japan and the 2006 sales figures of vending machines was close to 7 trillion yen. Of course there are vending machines in foreign countries, but most of them have only beverages, tobacco or condoms. Also, they stand alone and forsaken. Nevertheless, vending machines are found inside and outside of anywhere in Japan. Anything can be sold, alcohol, noodles, toys, stockings, fresh eggs and flowers. You can live only by vending machines.

Vending machines are another bright prospect of Digital Signage. Screens are placed on the vending machines and most of them are broadcasting information about products or campaigns. They can access the Internet 24 hours a day by connecting to a power source.

(Signage vending machine in Hiroshima city)

There are even more possibilities and expectations with cell phones .
Japan leads the world in cell phones and mobile communications. The typical Japanese cell phones are hard to export to the world since the specs of the units are different from those of other countries. This is often referred to as the ¡°Galapagos syndrome¡±.
However, there is a high possibility that mobile communications will be combined with Digital Signage. Information can be delivered to huge displays for mass audiences and cell phone terminals for individuals. The Digital Signage will be integrated for the specs of the specific phones . How will the Signage + cell phone business develop?
Digital Signage is going ahead in Europe and the United States. Walmart, the biggest retailer in the world, is making Digital Signage advertisements by networking stores and spaces inside stores. Using satellites, it broadcasts advertisements to more than 3150 stores daily. Japan is now trying to catch up fast to these leading cases. There is no successful model yet.
Although, in Japan there are many things that are not found in Europe and the United States. Japan has the best equipment for equipping digital optic fiber. There is a large possibility to expand the business by linking with mobile phones or vending machines. Manufacturing power on thin displays is high enough. And Japan has a uniquely high power of making pop, funny and cheerful contents. Expectations can be possible for improving power rapidly.
Nevertheless, Japan is already ahead of the world and there is a value in saying ¡°Japanese signage is the top in content¡¯s quality and hardware¡¯¡± (Atsuyuki Sugawara from PDC).
To this point, there is hope that Digital Signage will grow as a market of advertisements. But, other uses are also proposed. At city halls or hospitals, information about life or disaster preventions measures can be delivered. In offices, a company¡¯s information is delivered. Contents will be produced and developed. A widespread contents market will be formed.

(In Tokyo University Hospital)

Although Digital Signage is often called an electronic board, when it is actually defined, the idea is very vast. According to the Digital Signage Consortium, the definition is said to be ¡°a system that sends information by using electronic devise like displays that are connected to a network outside, in stores, in public areas, transportation and other places¡±. In other words, it does not stop at the ¡°advertisement on a huge screen outside¡± as a representative image on an electronic board. It is a total environment for the spread of information and ideas by digitally connecting the outside, in a small formed indication system, in various places or machines.
That is why Digital Signage is expected to grow as a media compared with TV, by using networks and cell phones. There are many possibilities for expansion within the industry.
However, it is not an easy task. To let these industries grow, solving each problem like technology, costs and business models are needed. There are lots of mountains to climb over. The process is not as smooth as expected.
For this reason,? the ¡°Digital Signage Consortium¡± was established in June 2007 in order to hold various activities.
According to Fuji Kimera Research Lab, the market scale is 6.49 million yen and 114%? growth compared to last year. The Digital Signage Consortium is setting a target of ¡°expanding market scale to 1 trillion yen, and making Japan the world¡¯s greatest digital signage country. The struggle to make this come true has begun.
¡ô5. Eyes from 3 Industries
Three groups are showing a heavy interest in Digital Signage.
They are the display industry, the network industry and the advertising industry. These three industries give red, blue and green signs and let one white vision of the market glow.
Here is the case of display makers. Talking about the electronics industry, there is a sense of?? uncertainty about the home TV business and the needs of traditional broadcasters. So that is why we want markets outside, in public places. It is a matter of keeping market share after switching to digital broadcasting. There are expectations for new uses of mixed broadcast and communication.
There are 130,000 displays for signage. 130,000 small electric POP are also available. These are outside and in stores. The development of large-scale, small-scale and thin-scale is continuing.

The communication industry has started NGN (New Generation Network) service in Spring 2008. For homes, IPTV that sends TV programs by optic fiber is the sought after method. Many channels can be seen with broadband. Nevertheless, it is media that competes with cable TV and large volume hard disc recorders. It is not a traditional business model by any means.
So, they want to develop communication business for companies, not for households. The bright prospects are the Digital Signage. Expanding markets for the sales of systems, software development, protection and management work are expected.
Mobile communication is also looking to signage as a promising customer. The next generation of cell phones make it possible to be as fast as optic fiber. It makes it easier to send pictures. It is not only the cell phone that sends. Radio signals are used for signage in city.
Broadcast is used too. Digital broadcasting is a super high-speed network that sends digital data over wide area at once. Contents can be sent by using electronic waves.
And then there is the advertising industry. Companies are now cutting advertisement costs and shifting them to the costs of promotion sales. Direct marketing becomes important by seeking real solicitation for users. These kinds of expectations should be answered.

In the last 3 years, advertising market of the ¡°four big mass media¡± such as TV, radio, newspapers and magazines are getting smaller. On the other hand, Internet advertisements are increasing. But the problem is that the total advertising costs of 7 trillion yen of combined mass media and Internet advertisements are not expanding. A New market has not been created.
This is where Digital Signage comes in. Isn¡¯t it possible to create a new advertising market of media fusion not by contending with the existing advertising market? Isn¡¯t it possible to present advertising plans to the head of the advertising that cannot be possible? Isn¡¯t it possible to show media promotion that is different from that of networks or cell phones? Isn¡¯t it possible to curb in promotion sales or a company¡¯s expenditures?
It is obvious that the content industry¡¯s interest is growing. Digital Signage needs expressions different from traditional entertainment or TV commercials as well as different contents. A different business of creating pictures and music is waiting.
For this reason, companies that have been making contents for TV in Tokyo, or companies that have been making flier inserts in cities are now starting to enter. Young companies website creators and games are now looking towards a new stage to play an active part.
¡°Also for the music industry, we think Digital Signage is a media that comes next to TV, satellite, CATV, internet, and cell phones.¡± (Mr. Junichi Hikiba from Space Shower Network)
To look at the opposite side, there are signs that everyone including manufacturers, communication companies, and advertising agencies are suffering. It is pretty hard to fill in the audience seats since the stage has gone dry; even trying to dance around the situation by saying that it is an IT revolution or digital society. Somehow or other, we want to find a new program. This tiny light of hope will be? Digital Signage.
According to Fuji Kimera Souken, out of a market scale of 64.9 billion yen in 2008, the system sales and construction make up 42.6 billion yen and the contents producing delivery service and advertisements are 22.3 billion yen. It is approximately a ratio of 2 to 1 of hard to soft.
Digital Signage has started up the lead through hardware, like the spread of broadband, growing products of thin and wide monitors and a growing cheap delivery system. Nevertheless, software development is also expected. Maybe not: the field of software is the line to Digital Signage.
¡°It is important to make original contents for Digital Signage.¡± (Mr. Masahiko Kawazoe from NTT)
¡ô6. The Real State Use of Developed Company
15 years has passed since the Internet started to develop all of a sudden. In the beginning, websites that were only a means of advertising became a staple of? the business trade. It became a means of financial affairs, a talented people¡¯s secure window, and then a place to gather customers. It is considered to be the center of? economic strategy. Companies that absorbed the technology fast had the ability to be competitive.
Cell phones followed after that, and then business trades, sales and then the management of mobile sites became the most important task for businesses.
How about Digital Signage?
¡°Now, there are almost no companies that do not have their own website. Likewise, it will be hard to find a store that does not give any information by Digital Signage in the next? several years.¡± (Minoru Kito from Itochu Techno Creations)
From the beginning point of media growth, companies are expected to know how to use and how to look at the purpose and effect not only by means of advertising but also by putting in points of business trades, sales, and economic strategy. This trial has already begun.
PDC Co. is picture delivery company that specializes in Digital Signage in which Panasonic has invested 95%. It gives more than 4000 stages of systems like business facilities, financial organizations, stores, transportation systems and self-governing organizations. The following are examples of their customers.
Let¡¯s look at promotion in a store. ¡°FANCEL¡± set-up a 50-inch wide plasma display in the store and pushes products of cosmetics. Thanks to the effect of signage, the store sales have risen 3%. At ¡°TSUTAYA¡± signage displays on counter desks show new information on rentals. New arrival DVD waiting list has gone up 15%.
The staffing service ¡°PASONA¡± has signage at their head office in Ootemachi, Tokyo.
At the show room on the 1st floor, a huge 150-inch wide? projector with 11 touch panels shows PASONA¡¯s visions and the profiles of the job seekers. Directing the smart space of a caf¨¦ by using a huge picture system shows a company¡¯s image and branding strategy to people.

(PASONA¡¯s office)

The ¡°SHISEIDO¡± head office can also be pointed out for using developing images of the company¡¯s products. SHISEIDO¡¯S works of rich archive pictures are shown on the surface of analogue tables or inside the drawers. There are 3000 contents in the base of CM data which are delivered by networks. It is a culture where the delivery system where the virtual and real are combined by digital and analog media.
SHISEIDO also has contents on 7 huge displays? in the underground hallway at Ginza station of the Tokyo Metropolitan Subway. It shows the PR of its own brand¡¯s products and advertisements on exhibitions. This is just a way to show off to the general public who are passing by catching their eye; not to customers who visit the head office.
¡°JAPAN AIRLINES¡± Haneda airport terminal has 140 50-inch plasma displaysprovide information on delays and cancellation of flights to the passengers in real time to improve their service. Nevertheless, showing service PR and information on promotion sales like preparing diapers for babies or additional points by entering the pet club now!
They put much of the focus on ¡°the universal design¡±. They investigated sentences to be easy for older people and those with partial color blindness by using costs. Public opinion is good so far, and it is going to connect the message of working hard on these measures to images of the company.
¡°TOKYO MIDTOWN¡± opened in March 2007. The facility is divided into three zones with 150 small, medium and large displays lined up. There are a lot of announcements on events, facility guides, information about art, weather reports, and news. There are a lot of touch panels and also contents of places are available in foreign languages.

(TOKYO MIDTOWN)

Close to TOKYO MIDTOWN is ¡°ROPPONGI HILLS¡±. 500 models of LEDs (a light-emitting diodes) in the surface of the round shaped building ¡°METRO HAT¡±, which opened in 2003, has a 200 model LED inside. Other than this, there are 300 liquid crystal displays connected to a LAN. It is said that 64 signages are placed in ¡°AKASAKA SAKASU¡± and 76 are placed in Marunouchi. These are connected with a network system. The important thing is the control of which screen is going to be shown and when it will be shown. The advertising side can judge its purpose or effect by calculating each place and time.

(AKASAKA SAKASU)

Chiba City¡± developed outstanding signage. They said that they will use signage as an ¡°activation for the city¡±. They will line up touch panels at parks, in front of police boxes and outside. The signage will show information about stores on shopping streets and letters from the city saying things like ¡°Challenge! Reduce incinerated garbage by 1/3¡± from March 2009.
By cooperating with NTT, they prepared a system that can get a coupon by holding a cell phone up to a display. Also, area stores reorganized contents by updating with PCs , and there is also signage called citizen signage that everyone can make as part web 2.0.
¡°Digital Signage is going to expand. It can be useful for companies.¡± (CEO Sugawara from PDC)
¡ô7. The Way of Development
Digital Signage is developing. It will evolve by changing its shape by introducing new technology and content.
First of all, let¡¯s talk about evolution of the advertising media. Setting a target of viewers by thinking of where to set up and deliver latest information on focusing specific class or movie contents in real time. Compared to TV commercials, the target is clear and the effect is easy to notice . On the other hand, it is different from paper posters or roll screen boards like printed matter that needs to be changed. Compared to paper posters or video displays that play the same movie again and again, it can be expected to have a great advertising effect and can be expected to bring in high profit.
Later points will be how to solicit business? and be cost effective. And, also, how the companies that use this can recognize the merit.
It is up to Internet and mobile communication and how they use the? PR of products and work strategies. This is now influencing company profits and will effect on stock. These recognitions have remained the same for the past 15 years. Digital Signage is the same as well. It is a matter of how to use Digital Signage for business. It is also up to a company¡¯s sensitivity.
Technology is introduced. At the ¡°King of Odaiba Adventure Final¡±, held by FUJI Television in the Summer 2008, inside of the attraction ¡°GEGEGE NO KITARO YOUKAI TOURS¡±, there was a function that used facial recognition and displayed the output on display terminals from NEC. The system side recognizes the audience by their looks and defines, sexuality and age. It showed 15 kinds of advertisements that match and also delivered electronic coupons that matched an attribute by using Feli-Ca. It will new techniques and devices and cell phones in order to raise the effect of advertising.

(facial recognition system)

¡°A fare system that is based on counting numbers of people that pass by in front of a display, or setting many displays, and whenever someone passes by in front of displays , there is a possibility of putting elements of ¡°Movement targeting (advertisement chasing)¡± like announcing the same advertisement. In the world of websites, and there are product advertisements that are limited to areas.¡± (Katsuhiro Yoshida from ORICOM)
There are other uses like advertisements and sales promotions that are expanding. Already there are announcement of conferences like concierge hotels, and uses of announcement boards at stations and airports. They show stock information at financial institutions, or showing prices of foods at supermarkets. Furthermore, it will expand to become an information tool at schools or hospitals, and a notice tool at companies. It is expected to be used broadcasting emergency notices to the public at public places.

(illustrated by Pyokotan)

¡°Digital Signage will develop to the office environment. By telephone, fax machine, personal computer and printing machine, offices have raised their productivity; I think the key of the next office productivity revolution will be office signage. It will use the special touch model and provide information again and again. I am looking forward to raising the level of team work and appearance of office signage for higher productivity.¡± (Keno Kubota from Panasonic)
The Japanese advertising market is 7 trillion yen. This is the first target for Digital Signage. Also, it is said that in a wide sense, the cost of sales promotion is 13 trillion yen a year. This will also be the second target. Nevertheless, the area cannot be still untapped by signage.
Digital Signage will be a tool for announcing or showing information at acts of economic societies like the whole business, education, medical treatment and administration. The untold potential energy is the gross domestic product (GDP) of 500 trillion yen that surrounds media. As the government pays attention to these points, several hundred? millions of yen have been earmarked for Digital Signage in the budget for 2009.
Providing advertisement and information does not stop, it will become a media for the city by making signage for walls, grounds and fountains. It will be used to improve city views or scenery and raise value art value of areas. Owners of buildings and developers are thought to be gathering land and assessing building values.

(Japan style?)

(Temple signage in Kyoto city)

The technology development is moving forward. First, let¡¯s talk about developing movie displays. By developing various sizes of movie displays, there will be new advertising needs that were not though of before. A 3mm thin TV appears. There will be movie display sets in places that were previously though to be very difficult. The development of the technology of solid movies is moving forward as well. You will see 3D advertisements being shown.

It is not only movies, information will engage all the 5 senses. There will be hearing, touching, smelling and tasting. Also there will be sound signage, and touching signage. NTT Communications is experimenting with ¡°the smell signage¡± by connecting movies emit ¡°smelsl¡± and appeal to smelling. When the smell of vanilla is given off inside a store, the sales ice cream rose about 1.3 times. And, when you smell roses at the station, the recognition of cosmetic brands grew twofold.

(Smell signage by NTT Com)

¡°Digital Signage will connect organically to TVs, cell phones, personal computers and other digital movie media, and I¡¯m convinced that these will combine with place and time; they will be useful and be memorable to our heart and will sublimate to a true cross media.¡± (Keno Kubota from Panasonic) It will not be an ends to a mean in advertising or marketing and a new media will be used in wide economic society. Also it is a growing media that will evolve technology and its representation. We want to take this possibility as a wide vision since it is the next field from now on.
¡ô8. Digital Signage Consortium
To make Digital Signage come into existence as an industry, the ¡°Digital Signage Consortium¡± was established in June 2007. 140 big and small companies including? advertising agencies, display manufacturers, content producers, telecommunication carriers and TV stations are taking part in the planning. Dr. Ichiya Nakamura is the president and Ms. Nanako Ishido takes part as the director general.
The consortium has ambitious goal as follows.

1, Be an industry with a scale of 1 trillion yen by 2015
Hardware/ advertisement, sales promotion/ communication career/ in each content field of 200 billion yen
In connection of system fields as 100 billion yen, with a 15% share of cost in advertisement
2, Make Japan as the world¡¯s best signage power country
Aim for world¡¯s best standard of market scale, numbers of displays, amount of signage time, technical power, content power, and advertising matter, promotion sales.
By 2015, make a signage network by connecting all of the train cars, stations, airports, commercial facilities, post offices/ post boxes, and public phones.

By aiming at these matters, work is being conducted to highlight the various sections like the systems section, indicator section, location section, and production section. And, work is also being conducted by testing and experimenting to create a unified industry with respect to data delivery and settling on indicators for advertising indicators.
From the start, the parties concerned were just surprised to see the passion and the high expectations since membership kept growing by one organization after another by crossing various business circles and members are participating actively in activities.
However Digital Signage is facing 4 major problems.

1, No technology standard
2, Indicators of advertising deals are under development
3, Copyright rules does not exist
4, Ethics rules does not exist

1, Since the system is inconsistent, the costs are very high.

2, Since the search on rating and disposal are inconsistent; setting ground rules of advertising costs is weak.

3, Since copyright rules are not clear, it takes time to create and deliver contents.

4, Since there is no ethics code to show to the public, it is difficult to make content. That means it is not established as a standard of media.


¡°Keeping the standardization and developing a delivery system that is right for this will lead to confidence.¡± (Noritaka Uji, vice president of NTT)
¡° A high recognition of view of mortgages, secure the reach by networks and the development of an indicator for advertising effect by making the costs toward the effect is very important.¡± (Sho Sugimoto , executive of Dentsu)
Therefore, the Consortium has the following missions: 1 solving tasks which the Digital Signage industry is facing and creating a new market, 2 improving values of signage experience in life scenes, and doing activities as listed below to solve each of these problems.

1, Delivering guidelines/ effect measurement and advertising effect indicators
2, Technology development
3, Study and proof experiments on new content forms of expression
4, Standardizing simple signage system for general stores
5, Copyright rules, ethics rules, indicators of protection for personal information rules
Various industries such as hardware/software and various parties that are important to ventures are gathering together and are now trying hard to form a new industry.

(Akihabara promotion experiment by Digital Signage Consortium)